EXCERPTED from his substack article:
The primary concern is unburned vinyl chloride. The uncontrolled, open-air fire is very highly unlikely to have burned even a majority of it: whilst it is flammable, like any other fire it requires oxygen, and there were no accelerants in the crash. The cars leaked for days before they were set on fire, and holes were made in the tankers: that is plenty of time for vast quantities to have seeped into the ground and surrounding water, which has been confirmed thus far to have contaminated the Ohio River, and will very likely be confirmed to have entered the Mississippi. The intense heat and lack of oxygen at ground zero means that the majority of the vinyl chloride, which boils at 8°F, is highly likely to have been lofted into the air unburned, and is currently being rained down again everywhere from Canada to NY to Kentucky.
It's Not Just The Wind
The fact that acid rain has been reported as far north as Ontario, and as far south as Kentucky, constitutes something of a confirmation of another worst-case scenario: the chemical, which was leached into soil, rivers and groundwater, is evaporating and raining down again, far outside the area which could have possibly been reached by the winds, which are blowing east-northeast. Vinyl chloride takes months to denature when dissolved into water or leached into soil.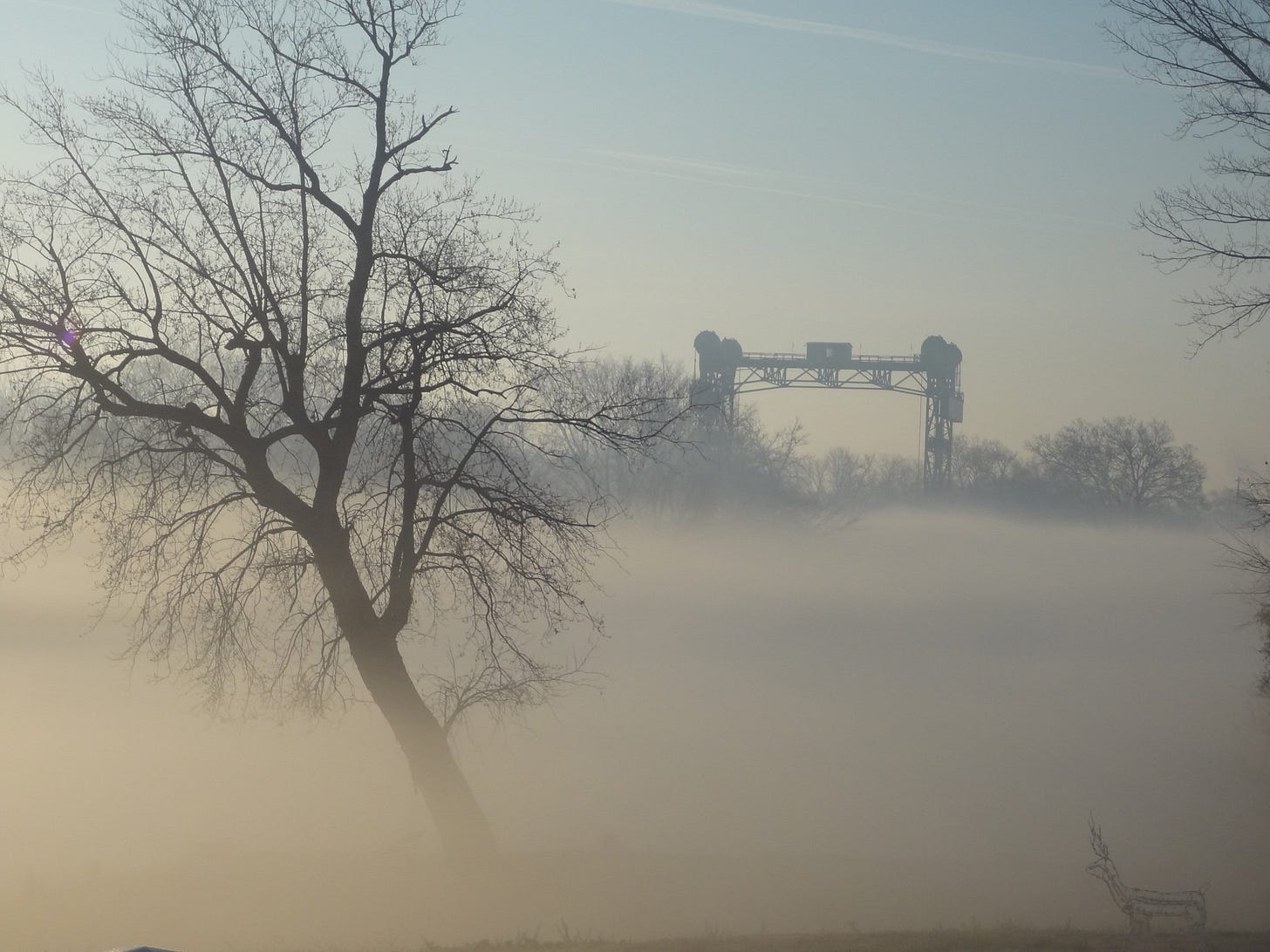 A much smaller spill in 2012 in NJ. They managed to avoid setting that one on fire.
The Ohio and Mississippi River basins permeate most of the eastern side of the country. There is a smaller area covered by the Tennessee River basin around Georgia; while the contaminated water may or may not directly reach those areas, the prevailing winds are still likely to push the chemical to the east, even that far south. Southern FL might be lucky enough to escape the devastation, but I would not be waiting around to see.
Vinyl chloride is toxic in extremely tiny amounts. Specifically, the metabolite chloroethylene oxide binds to guanine in our DNA, completely and thoroughly destroying any affected DNA. It only takes the tiniest of exposures to be practically guaranteed severe cancers, particularly sarcoma of the liver, which is where that most toxic metabolite is first produced. Untold quantities of dioxin have also been produced: if vinyl chloride is the silver medalist of carcinogenicity, dioxin is the gold, and it is far more persistent in the environment than even the vinyl chloride.
A gigantic bonfire of millions of gallons of vinyl chloride is the single worst chemical and environmental disaster imaginable. If the entirety of Lake Michigan had magically turned into VX gas – a rapidly lethal World War II nerve agent – it still wouldn't be anywhere near this bad.
Furthermore, there is mounting, albeit strongly circumstantial evidence, that this may have been a deliberate attack after all.
A Deliberate Chemical Weapons Attack?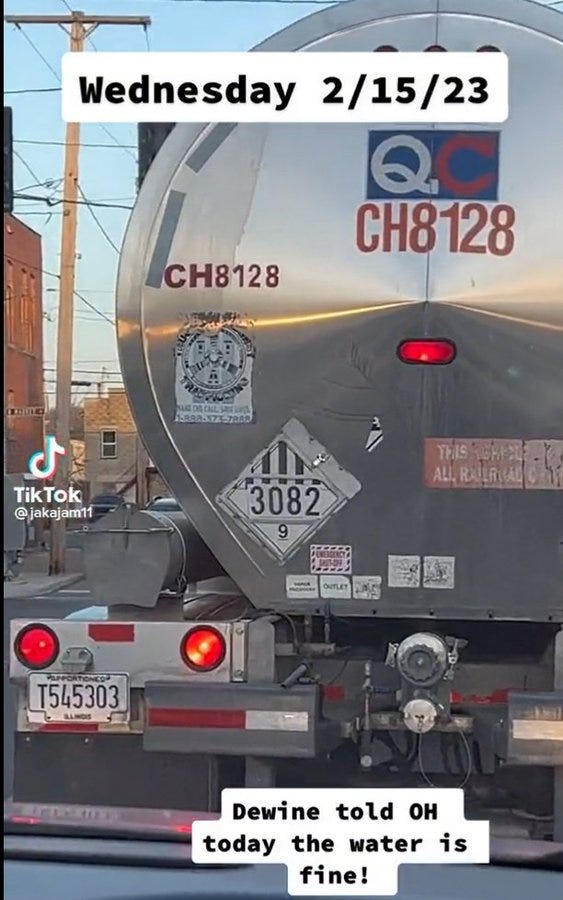 Video on Twitter
Green water has been reported in East Palestine. Let's review the chemicals released and produced by burning, and the colors they will turn water upon mixing:
Vinyl Chloride (VC): Colorless water (primary product) and colorless to light yellow water (combustion product – hydrogen chloride)
Ethylene Glycol Monobutyl Ether (EGMBE): Colorless water (primary product) and clear to pale yellow water (combustion product – acrolein)
Ethylhexyl Acrylate (EHAA): Colorless water (primary product) and clear, colorless to cloudy water (combustion product – formaldehyde)
Isobutylene (i-C4H8): Colorless water (primary product) and clear, colorless water (combustion product – formaldehyde)
Butyl Acrylates: Colorless water (primary product) and clear, colorless to cloudy water (combustion product – formaldehyde)
None of these products produce bright green water. How could bright green water possibly have been formed?
3082 is the label for nickel oxide. Fifteen tanker trucks labelled 3082 were seen heading to East Palestine on the 15th of February, and the next day, there was reporting on residents' bright green tap water. Nickel oxide – up to 150,000 gallons of it, given the capacities of the tanker trucks – produces nickel chloride when it is mixed with vinyl chloride, at atmospheric temperature and pressure, which certainly does turn water green. Nickel chloride is also extremely toxic and carcinogenic, and dissolves in water much more readily than vinyl chloride: if that is indeed what took place, which is not yet confirmed, but seems likely, then it's that much worse.
Why, for the love of God, would anybody mix fifteen tanker trucks of nickel oxide into the spill? It is not a fire suppressant or dry powder agent like sodium bicarbonate. It is used as a flame retardant in small amounts for plastic mixtures (of which vinyl chloride is a precursor, to PVC), but absolutely not for anything approaching this scale.
Poisoning half the country and destroying a majority of America's farmland would be a great reason.
Netflix released a movie in December ("White Noise"), playing out precisely what's taken place here, down to being filmed in the very same town, East Palestine, in which it occurred.
The CDC also "updated" the data on vinyl chloride in late January, before the crash, and after 17 years untouched.
The EPA has also been very obviously falsifying air and water tests, and let's not forget the reporter that was arrested for trying to investigate.
The conspiracy theorists are 60-nil these days, so I think Hanlon's Razor is inverted until further notice. There's no coincidences anymore.
Also notable is Deagel's 100 million population prediction. This is the first event that could conceivably reach that number in the allotted time, by 2025; with 250 million people east of the Mississippi River, and the untold devastation knocking on to affect the rest of the country, this could easily do that.